WHAT IF
YESTERDAY
DESIGNED
TOMORROW?
Manifest is a multi-disciplinary architects' practice and craft workshop.  We combine architectural design and historic conservation with practical construction, traditional oak framing and natural building crafts, operating from our base in Oxford and our working woodland in Gloucestershire.
Our approach to architecture is holistic, combining architectural design and historic conservation with practical construction and traditional building crafts.  We are trained in green oak framing in the British traditions, and we are convinced that being experienced in hands-on building work makes us better architects.  We try wherever possible to be involved even in the sourcing of materials, whether this be timber from our own working woodland, or using materials found on site such as earth, lime and straw.  We work at the intersection of traditional craft and contemporary sustainability, known as "natural building".
Read more about our work in design and conservation:
For us, architecture begins with an intense involvement with the place and the landscape, with the people on the ground, and the materials to hand, combining our practical skills and extensive knowledge of historic building techniques with excellent design abilities, to produce buildings which lie close to the earth and lift the human spirit.  We believe that our relationship with the natural world is full of poetry and meaning, and that architecture can show the way to enjoying this relationship to an ever closer degree.
What Is Natural Building?
Natural building is eco-building, achieving the high performance of thermal insulation and air-tightness, while reducing the embodied carbon and energy of the building by using materials which are left as close to their natural form as possible, and sourced from nearby.  The skill in designing and working many of these materials is based on traditional crafts.  Such things are naturally low in embodied energy, since they were developed in an era before cheap oil and machine power: natural building materials include cob, earth, timber and stone.  Even where some processing is involved, for example in the production of building limes, these use far less energy than their modern counterparts such as concrete or cement.
Read more about our work in sourcing materials and natural building:
Recent years have seen a resurgence of the use of such materials, and the addition of new forms to add to the mix: the invention of the baling machine has allowed us to build houses out of straw bales – the oldest of these date back to the 19th century.  (Of course, straw, reeds and other plants have been used for millennia as thatch as well.)  Later developments include wood-fibre insulation boards and sheepswool insulation, lime-hemp mixes, cork boards and natural paints.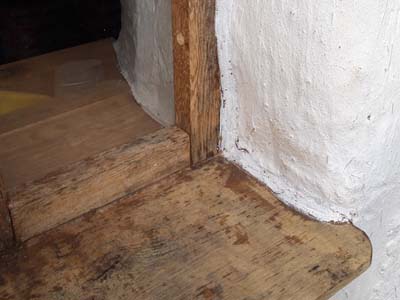 It is vital that we build in an environmentally responsible manner – but we also need to build beautiful, tactile and human buildings to house our bodies and our spirits.  Natural building tends to encourage handcraft, and great care and love in construction.  Such materials are healthier for all – not only the natural world, but for buildings' human occupants and builders – even at demolition, most of these materials can be re-used, recycled, or simply composted.
Manifest are experienced in the detail, design and specification of these materials: most are breathable, contributing to healthy internal environments, and working excellently with adjacent historic building fabric when carefully designed.  In this, their similarity to traditional construction materials are key to their use in the repair and extension of older structures.  We have achieved several Full Plans approvals for schemes through the Building Regulations, without the need for plastic membranes, artificial insulation or cementitious components, and have several successful projects in our portfolio.
Our working woodland is situated in western Gloucestershire, between the Rivers Severn and Wye.  It is part of a larger ancient woodland, being for the most part a hazel coppice with taller oak standards, together with a variety of other tree species including ash, cherry, birch, willow and some conifers.  As an ancient wood, it is blessed with many herbaceous plants and fungi, with its full complement of bird- and invertebrate life.
Read more about our work in research and teaching:
We run an active coppicing programme in Dragon Wood, as well as periodic fellings of larger trees in a fully documented and sustainable manner, being able to source our own timber and underwood for a variety of uses in our own projects.  We see this as key to our approach of regenerative architecture, whereby the coppicing cycle itself not only prolongs the life of ancient hazel stools, but also promotes increased bio-diversity in the woodland, allowing rare flowering plants and insect life to flourish as light pours into new openings in the canopy.
Dragon Wood is an ideal location for teaching greenwood  and crafting skills, as well as providing a base as we partner with local schools and organisations: our new venture in the Manifest Foundation makes good use of our resource.
Privacy Note | © Manifest Design Workshop Ltd
Manifest Design Workshop Ltd is a company limited by shares, registered in England & Wales, no.10067883
Registered address 13 Ridley Road, Oxford OX4 2QJ